Living History
Throughout the weekend you'll see history come alive in various ways, all thanks to those who honor centuries of Celtic culture. Better yet, you can join in! Hear stories, join a sing along, learn about swordfighting and even prepare for battle against the British!
Updates begin in 2021.

---
Wishing Tree
The tree's origins come from old traditions in Celtic nations; variations include Fairy Trees, May Trees, Votive Trees, and more. Visitors add their wishes as offerings to local saints, deities or wee folk, in hopes they can receive help or guidance towards their wish or prayer. At the end of the weekend all wishes are ceremoniously sent to the heavens with help from the Fire Sculpters, where we hope many receive help in coming true!

Clan Village
The History and pride of the Scottish people thrives in the descendants of the original families of Scotland and Ireland, known as Clans. They honor their ancestors by celebrating the traditions and heritage that have held their families together for generations. A visit is highly recommended, as the living history of Clan Village cannot be missed.

---
Welcome to our 2021 Clans!

Anderson Society New!


Clan Hay New!

Clan MacDougall

Stewart Society in America

Celtic College
Celebrating history and heritage of the Celts is a priority for the Niagara Celtic Heritage Festival. The Celtic College hosts a series of cultural classes and lectures designed to educate and enlighten you. Here's your chance to learn first-hand about bagpipes, Celtic poetry, genealogy and more- new topics every year. Make sure your visit includes one or more of these FREE classes!
---
Saturday, Sept. 18th
Times

Class

Classroom

Updates begin in 2021.
Sunday, Sept. 19th
Times

Class

Classroom

Updates begin in 2021.
Animals
Niagara Celtic hosts a wonderful array of demonstrations and hands-on experience with a variety of animals, including breeds direct from the British Isles.
---
Enjoy the amazing skills and tricks of some wonderful Shelties (a Scottish breed) and their friends. Catch their show twice daily.
---
Pony Rides by Spirit Wind Farm
Come and meet these beautiful ponies, who love our guests- especially the wee ones. Your kids can enjoy a free pony ride, allowing hands-on fun plus great photo opportunities.

Family Friendly
Kids of all ages can find endless fun throughout the grounds from the music to the food, demonstrations to attractions. We've made it easier for your to plan your outing by highlighting amazing family-friendly activities you won't want to miss!
Updates begin in 2021.
---
Meet the Fairy Court
At various times each day, kids are delighted to meet the Fairy Queen and other visitors from the Fairy Realm. Your children will remember these special moments long after you leave.

---
Come one, come all! See the wonderful blend of puppetry and storytelling from yester-years. Puppeteer Franklin LaVoie's masterful skills delight audiences young and old. Showtimes are at 11:30am, 2:00pm & 4:00pm each day.
---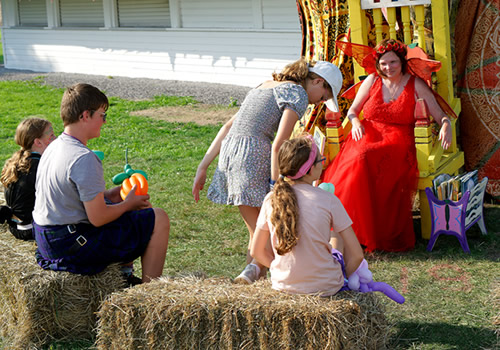 The Storyteller's Tree
Storytelling was vital during the time of ancient Celts, as a way to share history, lessons and fantasy. Come to the Storyteller's Tree and sit for a while as you enjoy tales covering everything from Celtic to local heritage. Whether it's a fanciful teller of tales or a talking tree, make sure to spend a little time relaxing with our storytellers. Showtimes and story lengths vary; visit often during festival weekend!

---
Wee Folk Shire
Wonder and adventure are found everywhere in Niagara Celtic's Wee Folk Shire. Journey through four mini-lands designed to encourage education, imagination, active play and togetherness.

Whimsy's Knob
Brittany Bowling
Blocks for Building
Fishing at Turtle Bay
Gnome Hole
Pot O' Gold Toss
An Bothán de Gobán Saor – The Hut of Gobban the Builder
Sandbox Play
Queen's Keep
Fairy Queen's Court
Balloon Sculpting
Celtic Crafts
Face Painting
Mother's Corner
Highlander's Field
Caber Toss
Stone Throw
Finn McCool's Giant Causeway
Vale of Glamorgan
Bubble Garden
Bug Toss
Daffodil Toss
Gaelic Mini-Golf