Digital Demo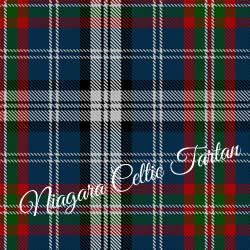 Woven Material Demo
The festival's founding family, The Banks', gifted a custom tartan in celebration of our 15th Anniversary. They worked with experts who helped create the design. It was submitted and approved by The Scottish Register of Tartans on September 3, 2015, making our ownership official and adding it to the world's only tartan database.
Our Tartan Details
Colors:
The colors represent the Celtic Nations celebrated at the festival, based on the modern flags of each country.
Restrictions:
The Niagara Celtic Festival Tartan has no use restrictions. This means the design can be used by festival participants and guests, helping everyone to feel like part of the Niagara Celtic family.
How Can it Be Used?
Our tartan can be used for kilts, skirts, dresses, ties, blankets, hats, shirts and more. Currently our tartan can be woven by any company.
Order Now:
Places to go for the fabric and/or products made with the tartan:
ScottishStoreOnline.com – WNY shop with ready-made items you can purchase now!